Description
Bike Home Folding Motorcycle Cover – BH01 – Grey
ANTI SAG ROOF DESIGN! PREVENTS WATER POOLING & INGRESS!!
New & improved design exclusive to to us! Please pay close attention to the improved roof design, you will note that the roof bars now feature a slight radius bend.
This simple modification now ensures water runs from the cover preventing pooling and during wetter colder months will stop stagnant water building up – this in turn will increase the life and help maintain the water repelling properties of the cover. You will not find this design available anywhere else!!
The Bike home is the most practical & versatile motorcycle storage solutions on the market to date. Manufactured from a high quality steel that has had a 10 Stage Rust Protection ensuring years of secure use and longevity along with a heavyweight Oxford 600D waterproof cover makes our bike home a cut above the rest.

Many Features Include:
Fits virtually all standard bikes and some larger bikes
Non Contact motorcycle cover
2x Secure locking mechanism (one each side)
Waterproof Material – (As Tested Here in the UK) (Oxford600D)
UV Sunlight Resistant
Protects from Dust and Debris
Fully Ventilated Sides with Velcro Covers
Weight just 56 pounds!
100% Polyester with Urethane Coating + Waterproof Rubber Lining
10 Stage Rust Protection Structure for Maximum Strength – BUILT TO LAST!
Very fast, Simple to operate & Easy to Use
Can be bolted permanently if required to the ground (with supplied 10mm anchor bolts)
Large Grounding Plate Each Side To Securely Fasten The Frame To Ground
BIKEHOME SIZE NOW LARGER THEN BEFORE 
Length : 116" (295 cm)
Width : 41.3" (105 cm)
Height : 67" (170 cm)
Ride in Height : 61″ (155cm)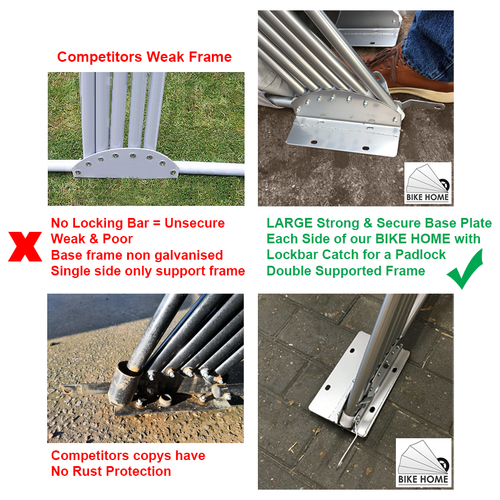 Ideal Cover Storage for:
Motorbikes, Scooters, Mobility Scooters, Wheel Chairs, Lawn Mowers, Temporary Outdoor Shed, Bike Shed, Rain Cover or Garden Storage
This animation is of the Trike Home but the standard bike home has the same motion